Back in our elementary days when we are behaving well we are rewarded with stars and each star represents an opportunity to brag or to take pride of the small accomplishment we've done. We show the world how we got a star while doing exactly what the teacher wants us to do.
Juan Manuel Marquez represents a portion of us while dismantling the equally talented Joel Casamayor. He executed a perfect game plan and destroyed the hopes of Casamayor and forced him to the brink of retirement.
Marquez showed to the world that he is the best lightweight out there and send a strong message to Manny Pacquiao. Manny and Juanma have totaled 24 rounds of fight and after a draw in the first fight Pacquiao escaped a split decision win but it was hotly contested by Marquez. A third encounter should have been done if not for Manny moving up in weight and challenge Marquez boss Oscar De La Hoya.
Juan Manuel Marquez after his sterling performance against Casamayor told the media that Mayweather is no.1 and after Floyd retired he is now the no.1 pound per pound in the world discrediting Manny Pacquiao and Joe Calzaghe in return. If Marquez wants to be no.1 then he has to go through wars and be successful in other words being no.1 means you have to earn it.
Without biased Marquez has superb talent and by far one of the best counterpuncher boxing has made. But he had also made stupid things that derailed his greatness. He refused a rematch after their 2004 battle against Pacquiao and fought Chris John in Indonesia and lost. He went to the Philippines and lure Pacquiao to a third fight which is by far made him a sour looser.
Juan Manuel Marquez is one of the best lightweight in the world now but he is definitely not the no.1 pound per pound yet. There is a thin definition between good and great.
Good means superiority and great means immense importance with vast results. Marquez is a good fighter but he still far from great.
Four stars for you….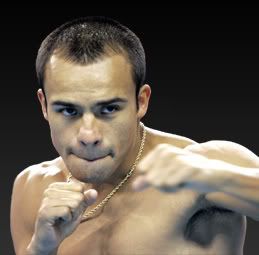 Jess has contributed a thousand plus articles to various international and local sports sites. He is still finishing up an e-book which talks about basketball and life. Message him at
[email protected]
Latest posts by Jess Matthew Beltran (see all)