After barely escaping three knock downs in the first round Juan Manuel Marquez gathered all his strength and relied on his counter punching skills. His will to survive was there but his determination to finish the fight was surmountable. If Juan Marquez was an ordinary fighter he would have given up long before the second round begins.
His battles against the no.1 pound per pound Manny Pacquiao was a classic. He survives a draw and a split decision loss against him. He is the kryptonite or Manny's super villain who gave Pacman one of the hardest fights he fought from all notable Mexican legends.
So what's up with "El Dinamita"? At age 34 Juan's time is slowly catching up although he was unsuccessful in his two fights against Manny but still there's a lot of unfinished business left between them. And between us fans we would all love to see a trilogy to tie the loose ends and to put a period in this thrilling saga.
Juan Marquez needs Manny practically because he is the biggest fish in the ocean right now and at his age he might not see a fight that could give him the biggest payday and could secure him a good retirement.
We all remember how Pacquiao offered Marquez a rematch after their first fight but Marquez turned down a sizeable amount of money to fight for pennies in Indonesia the result was a loss from Chris John and opportunities to fight marquee fighters in his division. There was no logic why Juan accepted a $30,000 purse in Indonesia instead of a guaranteed $100,000 megafight against Manny but nonetheless Juan knew his lesson and the rematch happened four years in the making.
Now Marquez followed Manny in the bigger 135lb division a fight with Joel Casamayor will book him another showdown against Manny next year but the WBO champion Casamayor is not a gimme fight. Casamayor is a natural lightweight who is like Pacquiao a southpaw who has a vaunted power who could also counter punch like Marquez.
I don't know if it's a good fight to see since both fighters are defensive minded only thing is there's a lot of things on line for both fighters it's either make it or break it.
So Juan Marquez once again had to dig deep on his arsenal with a very big mountain to climb. Throughout his career it was always like that. Everything was not prepared in a silver platter. Juan knew how hard it is to fight Pacquiao again… I guess Marquez had to start walking the path now because so far it's been a long road for redemption.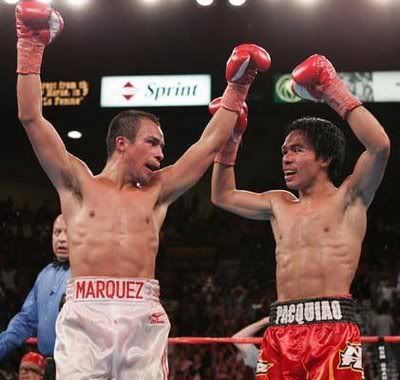 Jess has contributed a thousand plus articles to various international and local sports sites. He is still finishing up an e-book which talks about basketball and life. Message him at
[email protected]
Latest posts by Jess Matthew Beltran (see all)