When Galileo theorized the world in perspective is round. People started to question his insanity… Before the moon were just parts of some silly rhymes and was virtually impossible to go there but years later Neil Armstrong made a giant leap for mankind as he set his foot to become the first man in history to go to the moon.
Galileo and Armstrong are two different individuals but bonded in one common goal to make the impossible possible…
A virtually unknown player from the Toronto Raptors Jamario Moon signed a 3 day contract with the Raptors. In his first game he scored 12 points and six rebounds in 23 minutes and made a lasting impression by the Raptors that he was given the starting spot.
But it was not all bed of roses for the young Raptor. He had to undergo the impossible first to make his dream a reality. Graduated in a sub Par College school averaging 20.8 points peppered with 8.7 rebounds he immediately listed himself in the 2001 NBA draft.
But no team wanted him and was forced to play in the CBA, LNBP, USBL and the Harlem Globetrotters. A typical journeyman so to speak but Jamario never gave up and worked hard every game he played. Playing in the Harlem Globetrotters made him discover how great he really is… there were times they would throw the ball so high and Jamario just give his all and jump as high as he could and catch the ball. He made jumping as a sanctuary for all his frustrations. When things don't work out for him he just jump his way out of it literally…The Raptors gave Jamario some redemption and eventually carve his way in the league and became a defensive specialist breaking a club record of 1 block per game for 12 consecutive games. Highlights and impossible dunks slowly showing up in youtube and myspace. And fans are slowly recognizing his talent as he was named the NBA eastern conference rookie of the month for February.
Jamario still has a long way to go and a good career ahead of him.
Galileo, Armstrong and Jamario made a commitment to never gave up and made the impossible possible…
Fly me to the moon Jamario…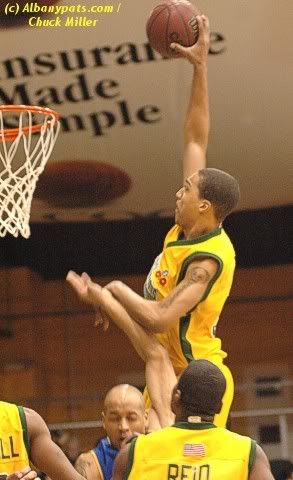 Jess has contributed a thousand plus articles to various international and local sports sites. He is still finishing up an e-book which talks about basketball and life. Message him at
[email protected]
Latest posts by Jess Matthew Beltran (see all)