A 16 year old Manny Pacquiao had to put stones and steels on his pocket just to get to the weight limit of 105 pounds and years after who would have thought the lanky kid from General Santos Philippines is now campaigning in the Welterweight division some 42 pounds up on his very first professional fight way back in 1995. Years back we would laugh on a Pacquiao-Cotto or Pacquiao-De la Hoya matchup it's an utterly mismatch with the smaller Manny. There is no way a former flyweight could conquer the household welterweight fighters who are bigger and stronger than Manny no one has ever done that. But Manny prove us all wrong he dominated Oscar De La Hoya and made him retire then he drop the light welterweight kingpin Ricky Hatton in just two rounds, dominated Miguel Cotto in TKO win then last Saturday displayed a masterful performance against a bigger welterweight in Joshua Clottey.
There is only one logical opponent left for Manny and that would be the winner of the Mayweather-Mosley fight this May 1. Manny has two fights left before retiring and others suggested if a Mosley or Mayweather fight doesn't materialize then better go one division higher against Yuri Foreman granting Yuri wins his fight with the Puerto Rican bomber Miguel Cotto gunning for a record of 8 divisional titles. But that would be a case of biting more than Manny could chew. You see Manny's three fights in the welterweight division with Oscar, Cotto and Clottey is an indication that he had reached his ultimate limit in weight. He had to go 8 rounds against a dehydrated De La Hoya, 12 rounds against a 145lb. catch weight on Cotto and 12 full rounds on a heavier and stronger welterweight in Joshua Clottey. Manny's original fighting weight would definitely be on the light welterweight limit but his power and speed can take him to bigger levels. The only problem is that how much can Pacquiao take all those heavier punches from bigger oppositions. He had a busted eardrum after the Cotto fight and even on his dominating fight with Clottey his eyes were swelled and looks like he had been beaten but of course it was the other way around. There was no one punch knockout that we are accustomed in seeing Manny while he was still campaigning in the lower weights instead it took him accumulated power punches to dominate his opponent. What makes Manny successful while moving up in weight is that he retained his speed and power enough to make legitimate welterweights fear for the storm of punches coming on their way.
An 8th divisional title won't be farfetched further making boxing history but a fight with Mosley or Mayweather is not all about cementing legacies it's all about pursuing higher greatness. He already made history by winning his 7th divisional title all Manny had to do is settle the score with either Mosley or Mayweather for the greatest boxer of our generation.No doubt about it after all he proved us wrong years ago.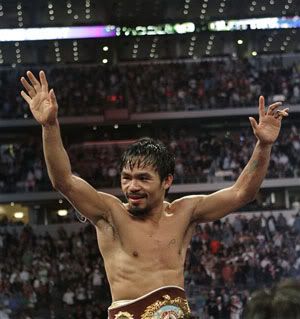 Jess has contributed a thousand plus articles to various international and local sports sites. He is still finishing up an e-book which talks about basketball and life. Message him at
[email protected]
Latest posts by Jess Matthew Beltran (see all)