Von Wafer got the loose ball and run towards the other end of the court with Kobe Bryant his former teammate on his back. Von beat Bryant and went for a stunning dunk…
Averaging 32 points per game, grabbing 10 rebounds and more than 7 assists, looks good enough in paper but Vakeaton Quamar Wafer otherwise known as Von Wafer was never known until his junior year when he was invited to play in Arkansas Wings on summer.
Von's basketball career has always been like that. People never quite get an impression out of him. After playing 2 years college ball, Von entered the draft and experts never thought anyone would draft an untested and raw player but the Lakers drafted the young guard even though no one invited him to any summer camps or workouts.
His limited playing time got him waived and instead played in the developmental league.
He has signed two 10-day contracts, being waived and signed again, traded and now doing his best to prolong his struggling career.
Von work his jumper, improved his defense and try to bring his "A" game everytime coaches gave him a green light. At 23 Von has gone to a lot of teams and scrimmages and for years he has improvised his game and became a solid backup point guard or a shooting guard.
His Mo-hawk hair made him standout from the rest, a testament of his newly and improved personality. Houston Rockets signed Von after the Rockets depleted roster succumbed to injuries.
Coach Adelman saw a bright and future point guard in Wafer and gave him the confidence in which Von reciprocate it so dearly.
After Shane Battier hit the go ahead basket from beyond the arc the Rockets are looking into a sterling upset. Von Wafer scored a career high 23 points in place of the injured Mcgrady. Their defense hold Bryant to 8-23 shooting with Battier and Wafer chasing down the reigning MVP. With 23 seconds left Kobe went to work and put a dagger with a wild three to end the game.
It was a loosing effort for the Rockets but Von felt vindicated… The years of hardwork have just paid off and what better way to showcase his ware with the world's greatest player.
Kobe tapped Von after the game and praise Von for his sweet shooting. Kobe said "He's always been a streaky shooter and he played well. I told him I was proud of the way you've been playing."… When fans went out and the empty chairs covered with wrappers and popcorns scattered around the arena the day has come to an end. Von knew there would be more memorable nights like this…he has waited for such a long time and now it's his time… it's wafer time.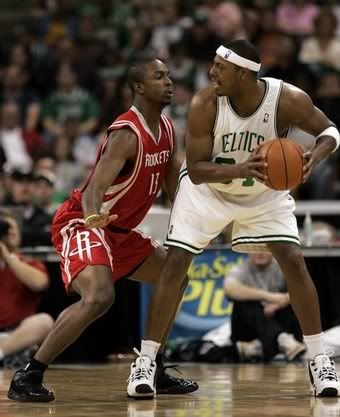 Jess has contributed a thousand plus articles to various international and local sports sites. He is still finishing up an e-book which talks about basketball and life. Message him at
[email protected]
Latest posts by Jess Matthew Beltran (see all)