It was supposed to be one of Juan Manuel Lopez's feel good fight before going up in weight to test the waters of the featherweight division and Rogers Mtagwa the Tanzanian iron man was supposed to follow the script when he opt to rearranged it and make it more exciting against Lopez.
It was Juanma who started strong on the opening rounds and looks like he is in for a short workout when Mtagwa stayed in the fight and saw Lopez on a verged of his first professional defeat as Mtagwa pummeled the young champion in the later rounds which saw Lopez eating a lot of his haymakers and making Lopez wobbly while holding on to the ropes. He survived the onslaught and luckily earned a unanimous decision win against Mtagwa. It was Juanma's toughest acid test on his career and although he barely passed,it proved that Lopez can take a punch and he has the heart of a champion. But it also proved that Lopez at 26 still has a long way to go before banging up with featherweight fighters.
Steven Luevano, Elio Rojas and even Cristobal Cruz are featherweight champions and anyone of them can give Lopez some problems. Let us remember that Rogers Mtagwa used to campaign in that division in fact he even went up as high as 131 lbs. fighting Terrance Roy and the Lopez fight was his first fight below the 126 lb. limit since the year 2000 when he lost to Debind Thapa on their Bantamweight match.
As good as he is Lopez has still a handful of opposition to clean up on his division before deciding to go up. Why not clean up his division and fight WBC's Toshiaki Nishioka, WBA's Poonsawat Kratingdaenggym or his ongoing trash talking enemy Celestino Caballero.
Mtagwa wants a rematch and he is certainly a legitimate contender but Bob Arum opt for Lopez to fight a cerebral but puffy hands featherweight Steven Luevano. A fighter should move up in weight when his body couldn't make it to the desired weight limit and not go up because his promoter says so.
Lopez should give Rogers Mtagwa a rematch and dominate him in a convincing fashion or better yet fight Celestino Caballero to settle the score until then Juan Manuel Lopez has still a lot to prove.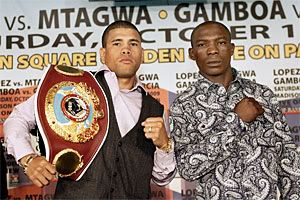 Jess has contributed a thousand plus articles to various international and local sports sites. He is still finishing up an e-book which talks about basketball and life. Message him at
[email protected]
Latest posts by Jess Matthew Beltran (see all)