When Greg Haugen fought Julio Cesar Chavez in 1993 he said Chavez fought mainly on taxi drivers but after he was TKOed in the fifth round Haugen said "They must have been tough taxi drivers"…
Julio Cesar Chavez had an unbelievable record of 108 wins with only 6 losses and 2 draws. Chavez made a legacy in boxing he is considered one of the greatest fighter in boxing history. His son Jr. was his supposed predecessor but with his recent outing against Matt Vanda it was a clear indication that he is far from his famed father.
Jr. was pampered so much pitting him against unknown fighters from the start of his career. People and promoters wanted him so much to be like his Dad that they were over protective of him. He was like a rich kid that never was exposed to the realms of the real world. Matt Vanda a decent average fighter made an interesting fight against the young Chavez that giving him a split decision win brought a lot of doubts among fans if he was destined to be the fighter he was envisioned to be.
At age 22 with an immaculate record of 37-0-1 Jr. has still a bright future ahead of him. But he has to take a different route if he wants to get away from his father's shadow.
He could fight Sergio Mora, Vernon Forrest, WBA Daniel Santos, IBF Verno Phillips or avenge his Dad's tormentor the Golden Boy Oscar De La Hoya. There are countless fighters with impressive resume willing to bang it out with Jr. Records don't make a legacy it's the quality of fights and opposition you bring on the table.
Julio Cesar Chavez Jr. will once again fight Matt Vanda to settle the controversial decision win against him. People are not interested to watch him fight and get battered again with the same boxer who out fought him before. If Jr. wins again there isn't much to talk about anyways. It's just a day in the office for him.
I think he is ready to fight the big names of boxing in his division. It's high time to test him with real fights with real fighters. Boxing is a tough sport and it's a dog eats dog world if you want to be no.1 you have to fight the best.
Maybe Jr. will soon get tired of fighting taxi drivers and when he encounters a tough one it might be an end to his pampered career.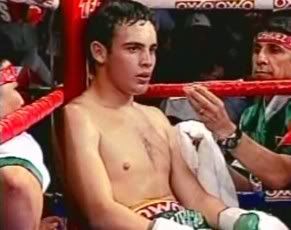 Jess has contributed a thousand plus articles to various international and local sports sites. He is still finishing up an e-book which talks about basketball and life. Message him at
[email protected]
Latest posts by Jess Matthew Beltran (see all)