The yin and yang of boxing, Manny Pacquiao's best battle may have been against Juan Manuel Marquez.
But so many doubts and questions were left unanswered.
Manny took over boxing after his last rematch with Marquez. He conquered greater heights and has been boxing's pound-for-pound king.
Marquez didn't do badly, either, winning against Juan Diaz twice and Michael Katsidis.
However, it has been almost four years, since he fought Pacquiao. The gap is so wide, and Manny has slowly developed into a complete fighter.
The contrast in styles makes it still intriguing to watch their third encounter.
Expect all-out offense against slick counter-punching.
Pacquiao, who fights in the welterweight division, naturally becomes the bigger fighter compared to Marquez.
However, looking at the table, there aren't extreme physical advantages to be had.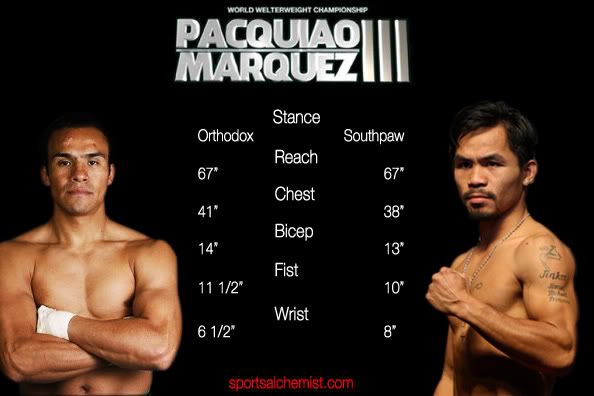 Juan Manuel Marquez has the bigger chest, biceps and fists compared to Pacquiao. However, Pacquiao's wrists are Manny's vital advantage, not just against Marquez but all his opponents.
He has the wrists of a heavyweight fighter.
Mike Tyson and Joe Louis, who were knockout punchers, were fighters in their prime. Both fighters had eight-inch wrists, the same as Manny.Wladimir Klitschko only has a 7.5-inch wrist, so basically Pacquiao is very unusual, especially as a former 105-pounder.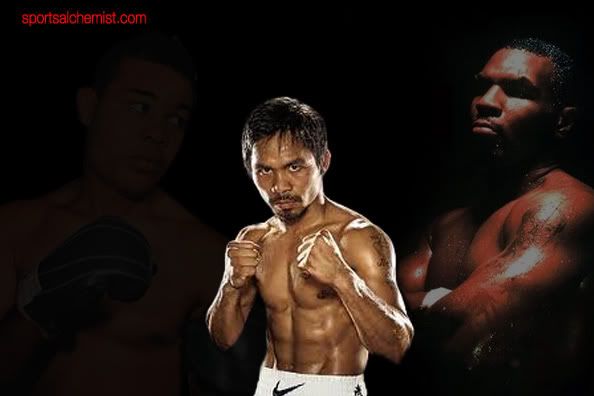 Juan Manuel Marquez Style
Jab
Juan Manuel Marquez's jab may be underrated, but he throws a very good one. Even Freddie Roach has acknowledged Marquez is one of the best jabbers in the world (http://www.boxingscene.com/roach-pacquiao-style-changes-marquezs-jab–44251).
It's clearly an element in Marquez's arsenal.
Uppercut
We saw how Marquez dismantled Juan Diaz with a left uppercut that opened a bad cut on Diaz's right eyelid. It was also a right uppercut that finished Diaz.The uppercut may not be Marquez's bread and butter, but it can be equally effective as his jab.
Pacquiao's chin will most likely withstand Marquez's uppercut. If he knocks Pacquiao out, it definitely won't be because of Manny's chin.
Defense
Juan Manuel Marquez prides himself on counter-punching. It's his best defense against opponents who move forward.
However, Manny Pacquiao's movements are more calculated now. Marquez will have to do more than counter-punch.
He needs to up the ante. He needs to frustrate Manny, then go for the kill. He needs to fight a Josh Clottey-style defense until Manny opens up.
Manny Pacquiao Style
Jab
We all know this is not Manny's top arsenal. He is not an outside fighter like Lennox Lewis, Felix Trinidad or the Klitschko brothers.
But this has become Manny's unheralded weapon. Freddie Roach has done a superb job in refining Manny's jab. The new Manny goes to attack with a jab, then follows with deadly combinations. Before, he would just brawl.
This was essential when he moved from one division to another. Expect a slightly conservative Pacquiao against Marquez, with lots of jabs and in-and-out combinations.
Uppercut
Manny's uppercuts are more precise and are released from unorthodox angles. Usually, his uppercut comes after a series of combinations. Pacquiao unleashes his uppercut in tight situations, such as in a corner. But Marquez, when in a corner, dips his right knee to avoid punches, then counters while maintaining his stance. That is usually how he gets the best out of his opponents in a corner.
Defense
Manny's offense is his best defense. Usually, Manny's opponents go into defensive mode once they taste his power. Moving three divisions up since he last fought Marquez, Manny's power has been increasingly dangerous. Marquez can counter well with Manny, but doubts will arise. How well can Marquez take Manny's increased power?
Conclusion
Both fighters have their strengths and weaknesses. And all of those doubts and questions will be answered after November 12.
There won't be any controversial decisions this time.
Manny has more advantages compared to Marquez, but we all know about Marquez's counter-punching skills. When they say, "It comes in threes," we all hope everything is settled in the third fight.

Related Blogs
Jess has contributed a thousand plus articles to various international and local sports sites. He is still finishing up an e-book which talks about basketball and life. Message him at
[email protected]
Latest posts by Jess Matthew Beltran (see all)