"He's f*@ckng good… I know he is a good fighter but I never knew he was that good… He's fast…. "Uttered by David Diaz after their one sided fight against Manny Pacquiao.
The fight was clearly dominated by Manny from start to finish giving Diaz problems with his speed and power. Everyone thought the fight will end on the early rounds but the stubborn and durable Diaz still moves forward in spite suffering cuts from his right eye. David was a sitting duck as Manny gave him a barrage of punches and tons of combinations and power shots. Manny never expected Diaz to last that long but in round 9 Manny caught Diaz with a quick left power shot that send Diaz to the canvass and David with all his frustrations never knew what hit him and Manny went on to become the first Asian to win four different titles in different weights and the first Filipino to win a light weight belt.
The fight was a clear indication of Manny as the new pound per pound king as he gave David Diaz what the new Manny is in store. He was jabbing very well and at times blocks Diaz's punches. He was in control of the fight and stayed compose even if he was leading in all rounds. His brawler type attitude was not evident on the fight but what we saw was a complete fighter who sticks to his game plan and waited his time to tear Diaz out.
In round 8 Diaz went to his corner shaking his head saying Manny's too fast. Pacquiao's speed seems to be the factor of the fight as Diaz sometimes get caught with combinations and left flat footed. Coming from a 106 lb. fighter Manny went up 6 weight classes up. Questions of Manny taking up a heavier fighter is what surface among boxing scribes but his David Diaz fight proved that Manny can take a heavier fighter and can take over the light weight division.
So what's next with Manny? A fight with Edwin Valero or a rematch with Juan Manuel Marquez or with Nate Campbell the lucrative light weight division has a lot of options for Manny. Manny has conquered his 4th title and we witness the coronation of the new king… the light weight champion and the no.1 pound per pound king.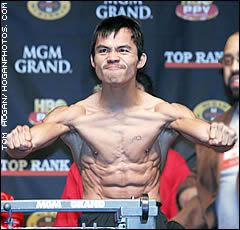 Jess has contributed a thousand plus articles to various international and local sports sites. He is still finishing up an e-book which talks about basketball and life. Message him at
[email protected]
Latest posts by Jess Matthew Beltran (see all)