Antonio Mcdyess clinched his fists on the air and with the series tied against Boston it's now everybody's ball game. Mcdyess scored 21 points and grab 16 rebounds with 1 assist to overpower the mighty Celtics in a convincing 94-75 win.
Antonio has gone through a lot from a starter to a reserve role then to a spectator.
The second overall pick by the Clippers and traded him for Rodney Rogers and Brent Barry to Denver. Antonio is an explosive double double player with great leaping ability.
He averaged at least 20 points and 10 rebounds a game. He was an all star and has played on the US Olympic team wherein they've won the gold.
When everything seems to be on the high, Antonio had a tendon rapture that needed a season-ending surgery. He was sideline for almost two seasons and was traded to the Knicks then to the Phoenix Suns. Antonio was not the same player that was before his explosiveness is depleting… A teary eyed Antonio remembers his struggles and coming back from a series of injuries is not an easy feat. Many had tried to comeback from injuries but to know avail failed to see the glitters of the limelight again with exception of Grant Hill. Antonio with his explosiveness gone, reinvented himself and work more on his shooting with mid-range and turn-around jumpers.
Detroit signed Antonio in a full mid-level exception in 2004 and is contented to be the reliable sixth man on the bench. He got the starter role after Webber departed the Pistons and Mcdyess the Pistons power forward move a step higher after falling down from the bottom pit. We might not see the old Antonio Mcdyess doing some kamikaze dunks but as long as he is still effective offensively and defensively its still good as before.
The dice rolls again from the top to the bottom and from the bottom to the top. Antonio knows being on top of the dice doesn't necessarily means you'll stay on top but after all the adversities and frustrations the dice might not be rolling again for Antonio.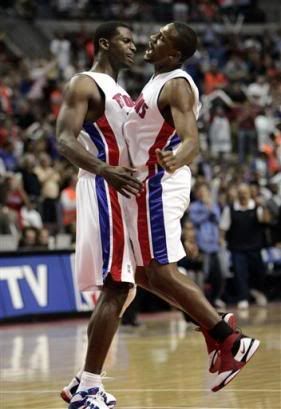 Jess has contributed a thousand plus articles to various international and local sports sites. He is still finishing up an e-book which talks about basketball and life. Message him at
[email protected]
Latest posts by Jess Matthew Beltran (see all)