As the Chinese team hold their hands together and jumped their way to the stands on their awarding ceremony last night. China regained the top Asian basketball superpower, dethroning Iran's era of basketball and relegating Philippines as the official "Brides maid and never been the Bride" after 2 consecutive runner up finished. It could have been a proud moment for China, winning the championship after years of rebuilding when Yao Ming retired. But it had to end with controversies surrounding the tournament.
From the semi-finals all the way to the finals, there are questions left unanswered. The host nation manipulated the game schedule by moving the semi-final game between the Philippines and Japan from 4:45pm (FIBA pdf) to 9:30pm and then changed it again to 10:00pm stating TV technical requirements and yet nobody in FIBA could expound about it. Making the winner of that game less time to recover against China in the finals. When Gilas Patron Manny V. Pangilinan (MVP) tweeted about the bus that will be taking the Philippine team to the game was delayed because it failed to charge, making it less time for players to warmup. And no tickets were allocated even to assistant coaches. Which makes it mind boggling.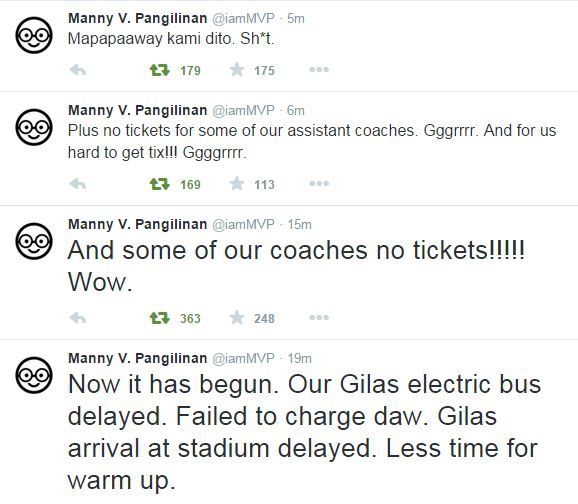 FIBA also allowed the Chinese team to be hosted in another hotel, which in FIBA rule was stated that all teams should be hosted on the same hotel even if it is the host team. And the officiating was the worst cooking show ever.
You can all watch it here http://www.sports5.ph/shows/271/gilas-3-0/9CE2A62F95/2015-fiba-asia-championship-physical-intensity-of-the-finals
But for whatever reasons, Gilas also dug their own grave. Jayson Castro managed only 3-of-14 shooting and the team are only hitting 15-of-26 from the free throw line. Imagine if those free-throws went in, Gilas could have tied the game to overtime.
In order to win against China, you need to play a perfect game like what Gilas had done against Iran. There were unforced errors and although Gilas played good defense their offense went stagnant and sometimes predictable throughout the game.
Yi Jianlian was awarded the tournament's MVP as the tall and athletic Chinese team waved to the crowd.
The team seemed to have it all. They are imposing and young.
At least they could have played it fair.

The Hostile Chinese crowd
Jess has contributed a thousand plus articles to various international and local sports sites. He is still finishing up an e-book which talks about basketball and life. Message him at
[email protected]
Latest posts by Jess Matthew Beltran (see all)