It was a rainy morning and the thick crowd was visible right from the very entrance of the restaurant who was featuring the PPV dream match between Manny Pacquiao and Oscar De La Hoya. I would have love to stay at home and enjoy the comfort of some chips and a beer on my hand but being with the crowd makes you feel excited and the endless chitchat with strangers is irreplaceable.
The supposed mismatch was a mismatch after all but on the wrong side of the stick. Manny Pacquiao dominated and bewildered the aging Golden boy of boxing in an almost perfect fight. Oscar looked like his age as Manny showered him with barraged of punches from all angles moving side to side neutralizing Oscar's jabs and hooks.
It was a one sided match with Manny's speed and power continuing to find it's range on Oscar's already grotesque face peppered with heavy body shots.
It was a perfect shutout as Oscar was on the verged of resignation while still in round three.
Valero's squeal
Before the dream match up Valero squealed saying he was the one who cause Oscar the blackeye while serving as a sparring mate with Oscar during his training in Big bear. The Slow but powerful Valero gave Oscar a beating and was sent home after their initial sparring session. Valero notice something in Oscar. He said that Oscar doesn't like to run and train and when he saw Manny's training he knew Oscar doesn't have a chance against the reigning pound per pound king.
The validation was evident on fight night although I gave my hats off to Oscar because he is not a sour loser the fight was like the passing of the baton one good man to another.
Oscar's time was just up and Manny was just simply too good that night. Oscar sat on his stool on the seventh round he was spent but decided to go for another round and his wobbled legs continued to deny him of coming up a last second surge. His corner men did the right thing in stopping the fight after round 8. Oscar needs to preserve his legendary status and a knockout loss could taint his name especially with a smaller and shorter guy in Pacquiao.
Manny was vocal in saying Oscar is still my idol… and Oscar responded "no you are now my idol". Oscar has made boxing what it is now and he would be forever be in the likes of Ali, Sugar Ray and other boxing legends. He has nothing to prove and I think we might see the last of him as a fighter. It's his time to enjoy his family and continue to create great boxing matches as a promoter while Manny has just solidified his hold as boxing's top pound per pound fighter.
As of me I never tasted the restaurant's buffet offer since the food was over in just minutes like a carcass thrown in a body of water full of piranhas as I gulped on some leftover icedtea. It kinda miss my good old home eating delicious home made pancakes with chips and beer. But I cant complain since its all worth it. Like a dream its all good to be true until you wake up and reality sinks in but nah.. lets just savor Manny's victory! Cheers!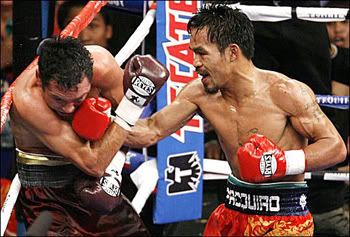 Jess has contributed a thousand plus articles to various international and local sports sites. He is still finishing up an e-book which talks about basketball and life. Message him at
[email protected]
Latest posts by Jess Matthew Beltran (see all)