An element of surprise has got to be something unexpected and unaware of. Gerry Peñalosa has boldly predicted that he will caught Juan Manuel Lopez in a surprise of his life come this Saturday in their head to head matchup in Lopez own turf.
Gerry must have a very high confidence in himself since he is way beyond the underdog status for others this is a mismatch in the making but for Gerry this is an opportunity to show the world how great he is. For starter Gerry started his professional career in 1989 and Lopez was only 6 years old at that time a difference of 11 years in age is quite a huge gap. Juanma have a 3 inches advantage in height and reach a big plus against Gerry who had difficulty fighting opponents taller than him. Gerry who lost twice to In-Joo Cho and Masamori Tokuyama are both five foot seven fighters who box and move against Penalosa. Juan Manuel Lopez is an undefeated fighter who packs a whooping power in both hands and has the speed to confuse and give Peñalosa his first knockout loss in his career. The common denominator of the two pugilists will have to be Daniel Ponce De Leon wherein Penalosa had to fight 12 full rounds against De Leon and losing by unanimous decision. Lopez only needed less than a minute to dispose De Leon in a stunning first round knockout with 2:25 left in the first round. By far Penalosa's memorable fight would have to be against Jhonny Gonzalez who was 5'7 ½" who dominated Penalosa in almost all rounds until a kidney shot was delivered by Gerry sending Gonzalez to the ground in the 7th round. If there is one reason that Gerry would come out victorious then no doubt it would be his experience fighting 62 fights compared to Lopez 24 has leveled the playing field. Gerry would have to use whatever tactics and experienced in order to come out the victor against Lopez.
An element of surprise is raring to happen but Lopez knows he has to stand his ground. A young fighter is impatient enough to undergo the process in dissecting a boxing match… he wants it done and over with but a veteran knows the perfect time to unleash its power shots. All Gerry has to do is to survive the early rounds and slowly dissect Lopez in the later rounds. There isn't much weakness for Lopez to take advantage with but he still has flaws. This Saturday we are in for a good treat and for sure we are in for a big surprise… Will it be Lopez's youth or Gerry's experienced we never know… that's the element of surprise.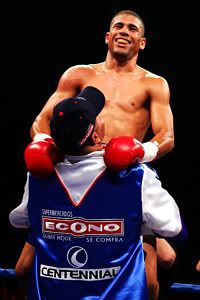 Jess has contributed a thousand plus articles to various international and local sports sites. He is still finishing up an e-book which talks about basketball and life. Message him at
[email protected]
Latest posts by Jess Matthew Beltran (see all)