When you are a 43 year old fighter who is a 4-1 underdog fighting a heavy handed bomber who is 17 years old younger you are expected to loose. But Bernard Hopkins once again cheated destiny and carve a different story to his already legendary career and taught a young champion a neat lesson in boxing.
Kelly Pavlik was on top of the food chain, championship belt and pound per pound status he is the man to beat in his division there was no need to fight an aging veteran in Hopkins win or loose Pavlik has nothing to prove against anyone. A fight with Bernard is not only risky but it's also a downright stupid. Kelly was to choose his direction to fight for a worthy challenger or money. Boxing is business even though fighters constantly deny the dollar factor but the truth of the matter is money spells everything. Kelly could earn more fighting Hopkins although there is no prestige in beating a 43 year old fighter.
The Executioner Hopkins started the fight blazing with handspeed and powershots Kelly was overwhelmed with the veteran's speed and precision. The slow footed Pavlik couldn't execute his gameplan as the heavy bombs of Hopkins started to find its mark.
Joe Calzaghe was successful in neutralizing Hopkins offense because he outbox him but in the Pavlik fight Bernard outbox the young champion with 172 punches against 108.
I personally scored the bout 118-111 I gave rounds 5 and 9 to Pavlik since in round 5 his punches started to connect but was cut short with Hopkins precise counterpunching. Round 9 was the time Hopkins was deducted for allegedly holding Pavlik and the rest of the rounds the executioner owns it.
Pavlik after the bout was bloodied and down. His perfect record is closely coming into a halt. His reputation stained the executioner once again executed the perfect game plan.
Bernard Hopkins defied time and silences all his critics. I personally wanted Pavlik to win not because I don't like Hopkins but because I wanted him to retire while he is still at one piece. I was wrong if Hopkins can handle a strong and talented 26 year old champion then he can still clearly fight a year more. The winner against Joe Calzaghe and Roy Jones Jr. could set up a mega bout against Bhop that would be a fitting finale to one of the world's greatest executioner.
To watch the fight just click the image below for the download link: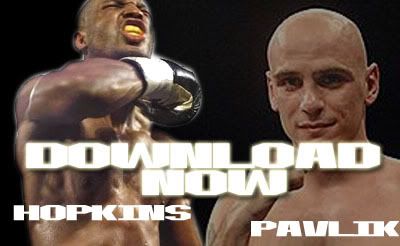 Jess has contributed a thousand plus articles to various international and local sports sites. He is still finishing up an e-book which talks about basketball and life. Message him at
[email protected]
Latest posts by Jess Matthew Beltran (see all)