The first round playoffs are slowly coming to a close. Lakers demolished Denver's hope of going into the second round sweeping them in 4 games while league leading Boston is almost close of pushing the panic button as Atlanta leveled their series to 2-2.
There are a lot of key acquisitions made from different teams going into the playoffs and those acquisitions are labeled according to their performance from the moment they are traded or signed.
THE GOOD
Mike Bibby (Atlanta Hawks) – meshing up with the young guns of Atlanta proved to be fruitful for Bibby. As he took Atlanta to the no.8 spot and gave Boston a scare as they scored impressive victories against a team who leads the league in defense with the minister of defense presiding by the name of Kevin Garnet. Although the series is far from over Mike Bibby and the Atlanta Hawks exceeded expectations and have proved that they are a team to beat. Boston will win the series but Atlanta will be back next year with the hunger and an appetite for a championship run.
Pau Gasol (Los Angeles Lakers)- After a series of disappointments in Memphis and a 0-12 standing in the playoffs Pau has now tasted the win column and have proved to be the focal point of the Lakers success with much credit to Kobe's MVP performance. With return of some key players like Bynum and Ariza the Lakers would be in a huge advantage in the playoffs. Pau and the Lakers are just waiting for the Utah-Houston series and with enough time to rest the Lakers will once again soar and move a notch higher to the conference finals.
Kyle Korver (Utah Jazz)- Utah was in a slump when they signed Kyle Korver. Kyle with his shooting prowess have given headaches to teams especially Houston in their series. Stockton and Malone were effective because they have Hornacek in the wing shooting beyond the arc. And with Deron Williams and Carlos Boozer teaming up Kyle is just around the corner swooshing the basket.
THE BAD
Jason Kidd (Dallas Mavericks) – Devin Harris could have been effective in neutralizing Chris Paul with all his height and quickness but Dallas was impatient and traded their young point guard for Jason Kidd. Jason will always be one of the top point guards in the history of the NBA but Jason just don't belong in Dallas the team that first drafted him. While Dirk Nowitzki carried their offense along with Josh Howard Dallas needs another consistent scorer. Jason in their series against New Orleans was given the green light to shoot but it's not Jason's game and New Orleans succeeded as they won the series 4-1. Dallas will have to evaluate their roster and they will just have to make the best out of Kidd as the 35 year old veteran will once again try his luck for a championship run.
Shaquile Oneal (Phoenix Suns)- The Phoenix Suns wanted to booze their line up and Steve Kerr the new GM traded Shawn Marion for big daddy Shaq. Mike d' Antoni's run and gun offense was put into a halt as they are now doing more set offense a phase the San Antonio Spurs are accustomed to. After their game 1 double overtime lost the Suns never made it back. And with the Spurs resulting to a hack a Shaq tactic Shaq now becomes a disadvantage and Steve Kerr paid the price. The Suns will be back but I still believed they are much effective in their run and gun offense… If aint broke don't fix it.
THE PLAYOFFS
Its still too early to tell who will emerge the champion and with round two coming up teams are preparing for a bigger battle. Will it be the Lakers? Or will Boston regain it senses… we just have to wait and enjoy… Round two coming up!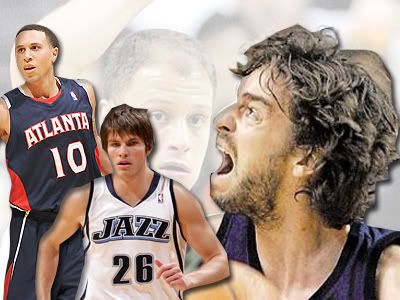 Jess has contributed a thousand plus articles to various international and local sports sites. He is still finishing up an e-book which talks about basketball and life. Message him at
[email protected]
Latest posts by Jess Matthew Beltran (see all)