The crowded lightweight division has once again in the limelight as 4 awaited box office matches coming up this second quarter of the year. We all remember the late Diego Corales and Luis Castillo battle. It has been one of the best fights and will be for ages. Though all 4 fights doesn't ensure a duplicate of the Corales-Castillo match up but the hype and anticipation could very well keep boxing fans at guard.
Juan Diaz-Michael Katsidis
This fight would have been made when both boxers are still legitimate belt holders. Instead both fighters went on the wrong way and their undefeated record got scratch with Casamayor scoring an upset against Katsidis WBO interim belt and Nate Campbell grabs Juan's WBA, WBO and IBF belts. Now both fighters are gonna slug it out for a must win situation. A loss could pummel them down to the star studded division and could clearly derail their career for a shot on another belt. The question would be can a pressure puncher like Juan Diaz emerges victorious against the heavy bombs of Michael Katsidis?
Juan Manuel Marquez-Joel Casamayor
Both are tactician in nature and both are on their mid 30s. Juan Manuel Marquez followed Manny Pacquiao up north to settle a third and final match against Pacman. But he had to do it the hard way and facing Joel Casamayor is not an easy mountain to climb. Casamayor at 37 still looks pretty impressive against the young Michael Katsidis. He has been a resident light weight contender and with Juan Manuel Marquez adding 5 lbs heavier we all saw how Manny made the transition from 130 to a legitimate 135lbs contender. Question would be how will the 35 year old Marquez fare with a heavier tactician in Casamayor?
Joan Guzman-Nate Campbell
Joan Guzman was a devastating boxer in the super bantamweight division but moving up as a super featherweight his power is ineffective against bigger guys like Jorge Barrios, Antonio Davis and Humberto Soto. Joan is a class act and his speed and defense make him a valuable fighter but he has to face a devastating pressure fighter in Nate Campbell. Nate is a natural heavier fighter than Joan and has good defense. This would be a good fight but either way I cant see this fight going into a full route… Nate always loves to fight an undefeated fighter and Joan should better be ready…
Manny Pacquiao-Oscar De La Hoya
Although both are fighting in the welterweight limit Manny is still the WBC light weight champion and win or loose against Oscar. Pacquiao will have to defend his title. Many considered this fight as a freak show but all I see is a potential fight of the year. Manny will be the heavy underdog on this fight. Will David slay the bigger Goliath? Or will Goliath clobbers the proud champion?
The matches will determine who will fight who and the better boxer will have to face the bigger fish of the division… It's an elimination fight folks… May the best boxer wins.
Let the fights begin…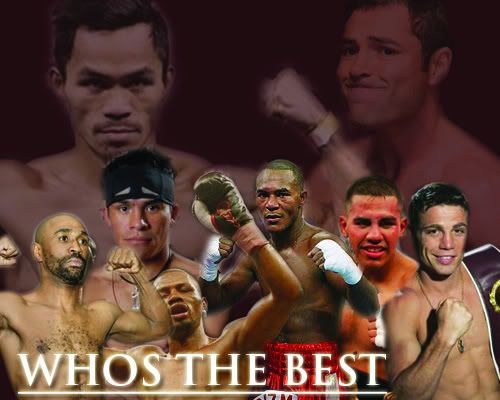 Jess has contributed a thousand plus articles to various international and local sports sites. He is still finishing up an e-book which talks about basketball and life. Message him at
[email protected]
Latest posts by Jess Matthew Beltran (see all)