I was watching the New Orleans Hornets All star point guard Chris Paul driving to the basket during their 2009 first round Playoff game against the Denver Nuggets all eyes were on Paul when he made a drop pass to Tyson Chandler and Tyson with conviction dunk the basket that looks like the rim was ripped off. It was something which was still vivid in my memory until now and got me asking why in the hell would the Hornets trade such an amazing player? Chandler got traded after the All-star break to the Oklahoma Thunders for Joe Smith, Chris Wilcox and Devon Hardin but when Tyson failed the medical checkup and the medical team refused to give him a clean bill of health the trade was rescinded.
Chris Paul was more than happy to see Tyson back in the Hornets uniform but it's already official Tyson Chandler got traded again this time to the Charlotte Bobcats for former Connecticut standout Emeka Okafor. In paper it looks like a reasonable trade with both guys averaging double-double in points and rebounds, they are of the same age and both players are almost identical on stats but Emeka can give the Hornets a different look in their roster with his post offense he can team up with David West and can very well flourished to be a reliable big man in Chris Paul and as for Chandler well the Bobcats can save a sizeable amount of money and salary cap other than that I'm afraid there's nothing to squeezed it out of Chandler's 7-foot-1, 245 lbs. body. He is a good rebounder but an offensive liability. Why? Because he strives on a system where there are guards who could command the double team and make outrageous pass for an easy two, Chris Paul in particular. He was good in Chicago but he was much better in New Orleans as a double-double player and in Charlotte he would have to gel up with Raymond Felton and DJ Augustin which is nowhere Paul's caliber of the moment.
I believe its Tyson's left toe which made the New Orleans Hornets organization in panic mode and Oklahoma almost made a mistake in taking him in. It must have been that big that Dr. Carlan Yates the Thunders team physician called a rescinding of trades and when nobody else took the bait the Charlotte Bobcats embraced it with open arms.
Tyson will have to proved his worth again and if I was him I'll be working doubly hard in the gym… because he's got a lot of catching up to do.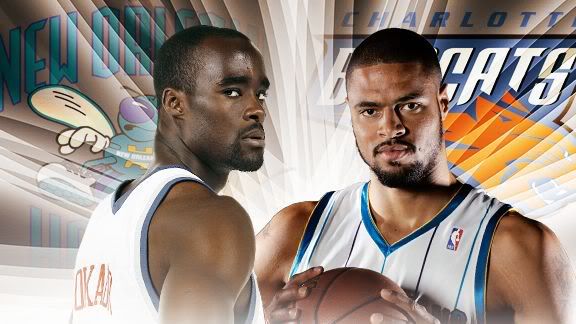 Jess has contributed a thousand plus articles to various international and local sports sites. He is still finishing up an e-book which talks about basketball and life. Message him at
[email protected]
Latest posts by Jess Matthew Beltran (see all)