Juan Manuel Marquez will be facing a hole in his coveted career after disposing the Ring Magazine champion Joel Casamayor and Manny has a big slice of that hole that Juanma has put himself into. Since their epic battle that resulted with a draw and a split decision Juanma followed Manny up north in the lightweight division hoping to get everything settled but Manny has a monumental matchup with the Golden boy in boxing Oscar De La Hoya which leaves Juanma without a dancing partner. It's a bit blurry to see the Pacquiao-Marquez third edition at this time now considering Manny has set his eyes on Ricky Hatton after the De La Hoya fight. Marquez is in a waiting game and he has no other way but to hope Manny will turn the tide and fight him.
At age 35 waiting is not an option for Juanma and there is only one way for Manny to fight him again… clear the lightweight division… if this happens then he doesn't need to lure Manny for the trilogy the fans will demand for that fight to happen.
So with a talented class of lightweights Juan Manuel has the luxury to choose the worthy opponent for his next bout

Nate Campbell (WBA, WBO and IBF champion) – the unified lightweight champion is one year older than Marquez but have been fighting almost all his career in the lightweight division. This would be a good fight with Marquez because a fighter like Nate who is a pressure puncher brings out the best of Marquez who is a master of counterpunching. This fight would have already been sealed if it wasn't for the promoters. It would have been a good fight now it seems like a distant possibility.
Juan Diaz– His fight with Michael Katsidis proved Juan is back and before anyone else Juan was the lightweight ruler before Nate Campbell took away his belts. But Juan is still 24 and that might not be a good matchup for Marquez, Juan will imposed his pressure punches to Marquez although Juanma can counter Diaz bombs but the question would be how long? Marquez has trouble when he is showered with barrage of punches with speed and power like on the first Pacquiao match. And with Speed and power on Diaz side this would be a risky fight for Marquez although it's a very tough fight but the reward would be fulfilling. Juan Diaz is the beast to slay in the lightweight division and winning against a young and durable fighter like Diaz would took him up in the pound per pound rankings.
Edwin Valero– Edwin has poor defense but what he lacks on defense is compensated with his power. Unknown to some Edwin has a good amateur background with a record of 86-6 with a 66 percent KO ratio so in other words he knows how to box and knows how to win a boxing match. His 18 first round KO record abandoned his boxing skills and became a known slugger. Juanma will have his hands full against a heavy handed hitter like Edwin but this would silence the hype and untested Valero in making his own battle against Pacman if Marquez wins.
Joan Guzman– a disappointment to everyone but Joan is still a superb tactician in the ring although he has to change his ways if he wants his career to stay longer. Juanma and Joan have similarity in styles but Joan is a notch higher in defense and quickness. This would be a seesaw battle but I bet my money on Juanma for this one. If you went into a camp 40lbs heavier in the lightweight division then undeniably you got issues. Being a boxer doesn't only require you to be skilled but it takes also a lot of discipline.
Juan Manuel Marquez doesn't have to worry about a fight with Pacquiao if it happens it happens…Destiny always find a way to make the what could be the greatest fight in boxing… but yeah Destiny has also issues..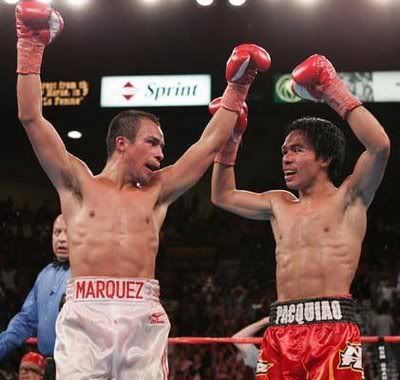 Jess has contributed a thousand plus articles to various international and local sports sites. He is still finishing up an e-book which talks about basketball and life. Message him at
[email protected]
Latest posts by Jess Matthew Beltran (see all)